Description
Hi-Vis Vest: Be Visible and Stay Safe
When working in high-risk environments, safety should always be a top priority. The Hi-Vis Vest is your ultimate protection gear, designed to keep you visible and safe in any situation. With its exceptional features and durable construction, this vest is a must-have for anyone who values their safety and needs to stay visible in low-light conditions.
Why Choose Hi-Vis Vest?
High Visibility Material: The Hi-Vis Vest is crafted with high-visibility fluorescent materials and reflective tape, ensuring that you stand out and stay visible in any lighting condition, including low-light, bad weather, or high-traffic areas. Whether you're working on a construction site, directing traffic or participating outdoor sports, this vest enhances your visibility, making you easily noticeable to coworkers, drivers, and machinery operators. Be seen and stay safe.
Durable and Reliable: The Hi-Vis Vest is built to last in the toughest conditions. Made from premium-grade materials, it is resistant to wear, tear, and fading, ensuring its durability and reliability over time. Invest in a vest that can keep up with your demanding needs, providing you with long-lasting protection and peace of mind.
Product Details:
Product name
New Hi vis Reflective Safety Vest Luminous Construction Custom Company Logo
Private logo

Printing (Upload your logo or Contact our customer service ;We will send the  design draft  for your approval before manufacturing);Any Special requirement we will help you .

Size

S/M/L/XL/2XL/3XL/4XL,Customized

MOQ

 1Pc /Wholesale/ bulk order are available

Color

Neon Yellow/Orange/Red/Black/Pink/Dark Blue/Green/Black

Material

100%Polyester ,H-Vis Reflective /Luminous Material   

High Reflective Grey Tape,Luminous Grey Tape

Delivery Time

Normally 7-15Days after your confirmation  via USPS/ Fedex

Production Process

•Pre-Production: Get the design approval of Customer.

•Production Line: Quality Inspection For Each Production Line

•Quality Control: Needle Inspection Machine Check after production.

•Packing:Check Everthing before Packing

Guarantee

Any question will be answered within 6 hours and any imperfection can be refunded or replaced free of charge.
*Zipper front closure
*Two durable microphone tabs on the shoulders to hold your radio/talkie.
*Right Chest pouch for flashlight/pen/pencil.
*Left Chest transparent pocket with caps for your ID. d-ring or paper.
*Two Large expandable velcro utility pockets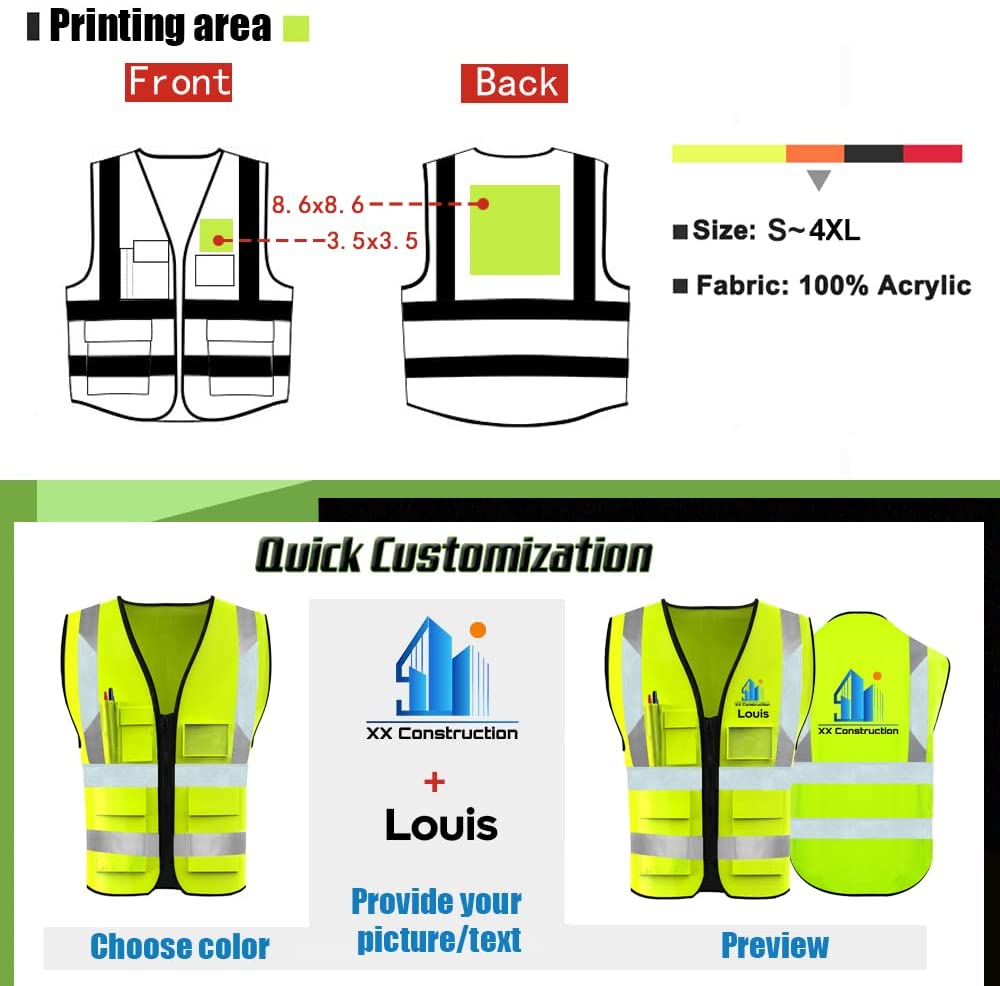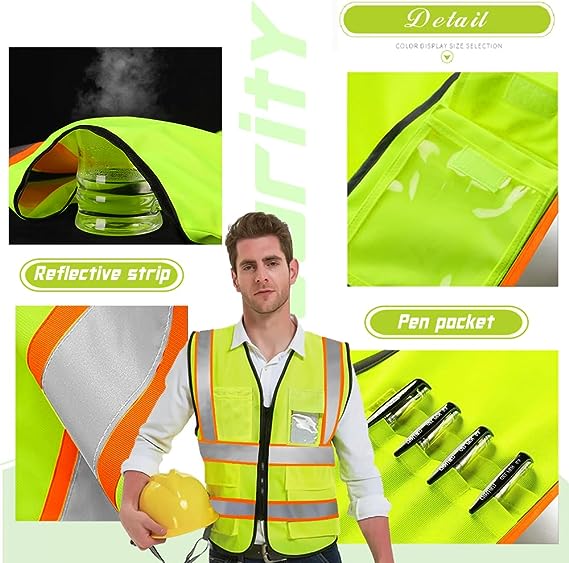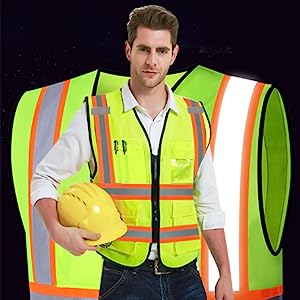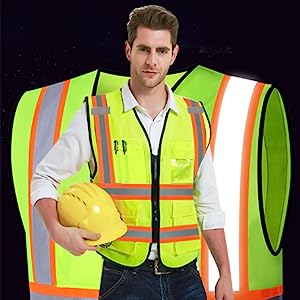 Comfortable Fit: We understand that comfort is vital for productivity and focus. The Vest features an adjustable and breathable design, allowing you to move freely and carry out your tasks without restrictions. With its lightweight construction and ergonomic design, you'll forget you're even wearing it. Stay comfortable and confident throughout your workday.
Flexible Applications: The Vest is designed for versatile use across various applications. Whether you are working on a construction site, operating heavy machinery, or directing traffic, this vest is the perfect safety companion. It can be easily worn over clothing or gear, guaranteeing your safety without compromising your performance or style.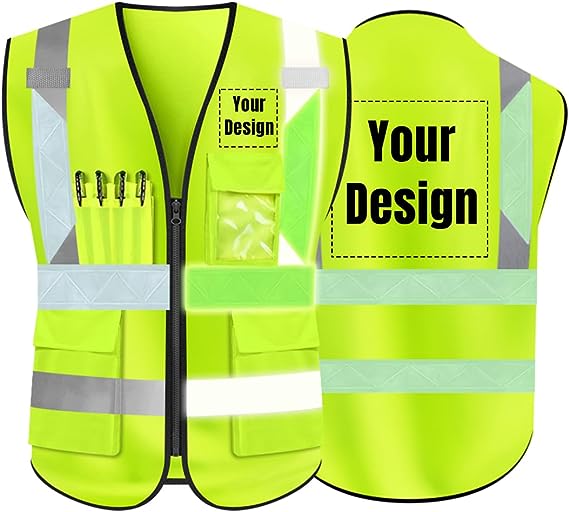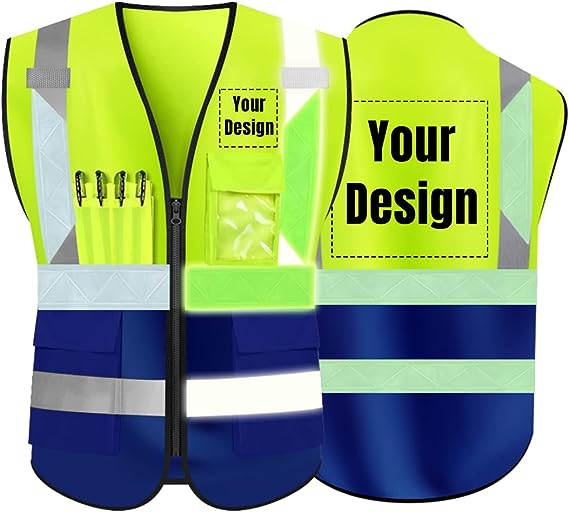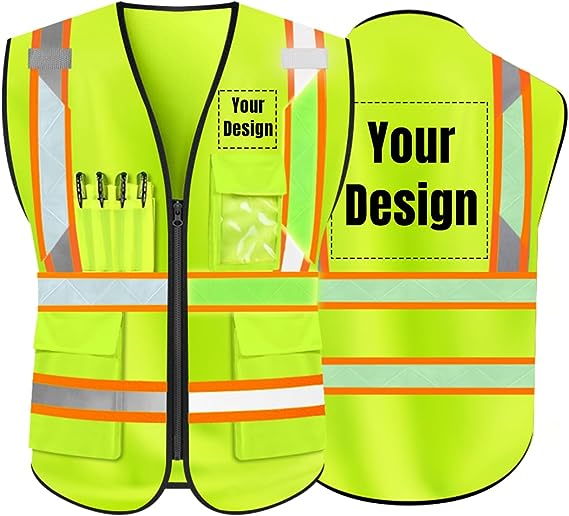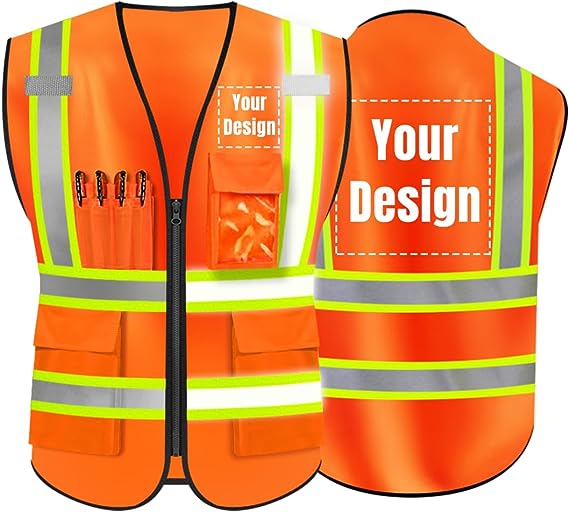 Easy Maintenance: The Vest is designed for practicality. It is easy to clean and maintain, allowing you to focus on your work instead of worrying about the upkeep of your gear. Just a simple wash and it's ready for the next day of use.
Enhance your safety measures with the Vest. Achieve high visibility, durability, reliability, comfortable fit, flexible applications, and practicality all in one. Don't compromise when it comes to safety – get your Hi-Vis Vest today and experience confidence in being visible and protected in any environment.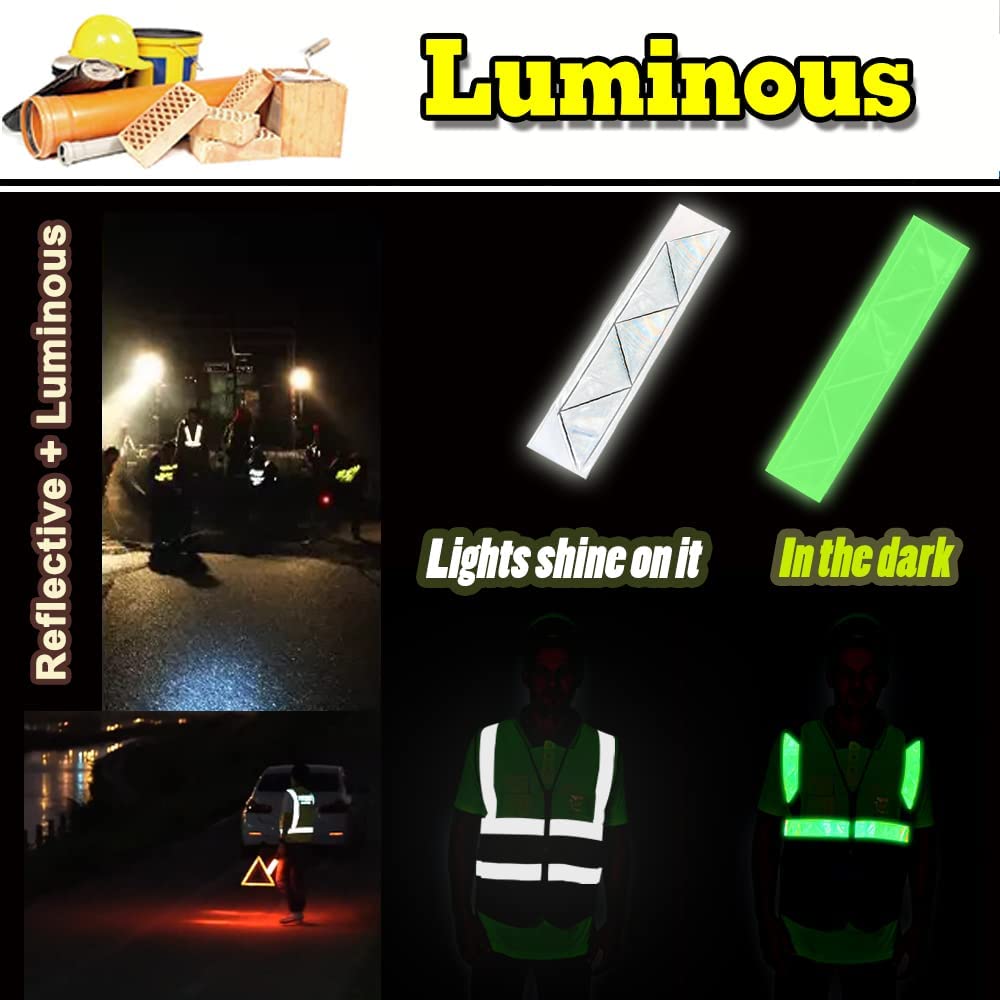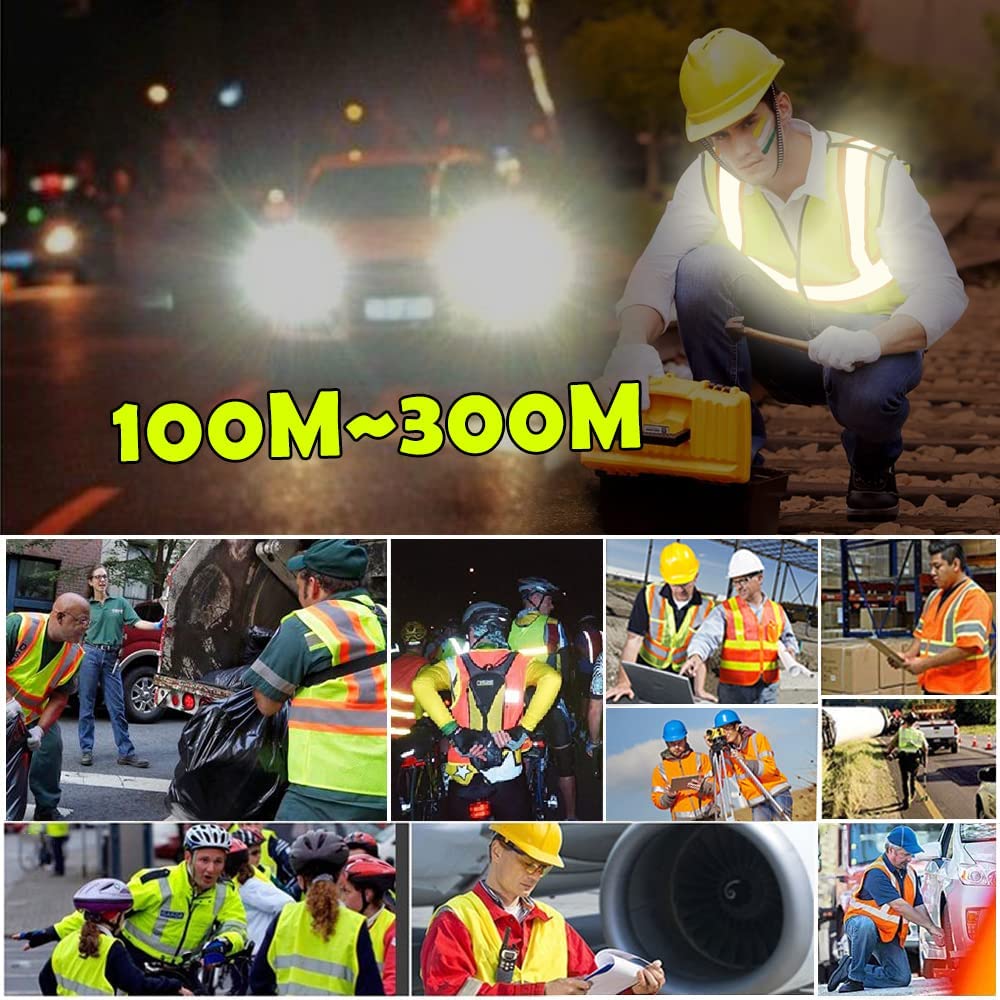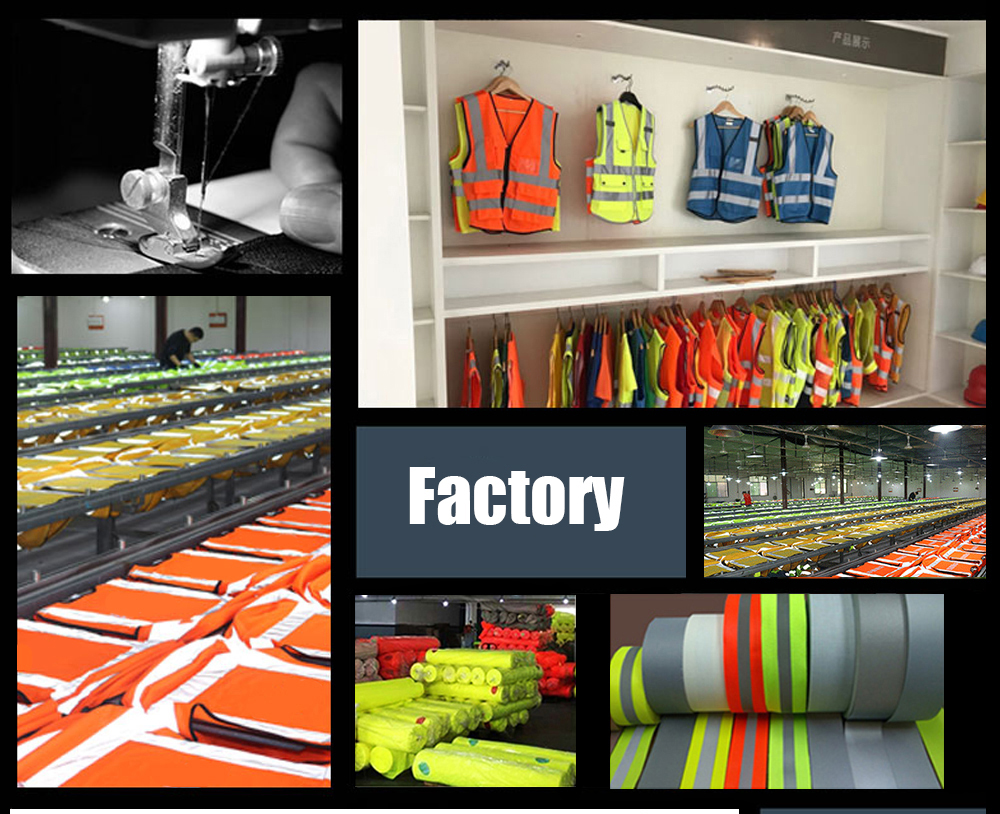 Other product recommendations: