Description
Product Description:
Safety is our top priority, which is why our Hi Vis Safety Vest is crafted with the highest quality materials that meet industry safety standards. The vibrant fluorescent color, combined with reflective strips, makes you highly visible even in low-light conditions, reducing the risk of accidents and ensuring your safety on the job.
Product name
Hi Vis Reflective Safety Vest with Custom Logo with 5 pockets and Zipper Design
Private logo
Printing (Upload your logo or Contact our customer service ;We will send the  design draft  for your approval before manufacturing);Any Special requirement we will help you .
Size
S/M/L/XL/2XL/3XL/4XL,Customized
MOQ
 1Pc /Wholesale/ bulk order are available
Material
100%Polyester ,H-Vis Reflective Material  High Reflective Grey Tape
Delivery Time
Normally 7-15Days after your confirmation  via USPS/ Fedex

Production Process

•Pre-Production: Get the design approval of Customer.

•Production Line: Quality Inspection For Each Production Line

•Quality Control: Needle Inspection Machine Check after production.

•Packing:Check Everthing before Packing

Guarantee
Any question will be answered within 6 hours and any imperfection can be refunded or replaced free of charge.
But our Hi Vis Safety Vest goes beyond just being a safety precaution. Engineered for comfort, it features a lightweight and breathable design that allows you to move freely and comfortably throughout the day. The adjustable straps and ergonomic fit ensure a snug yet comfortable feel, so you can focus on your work without any distractions.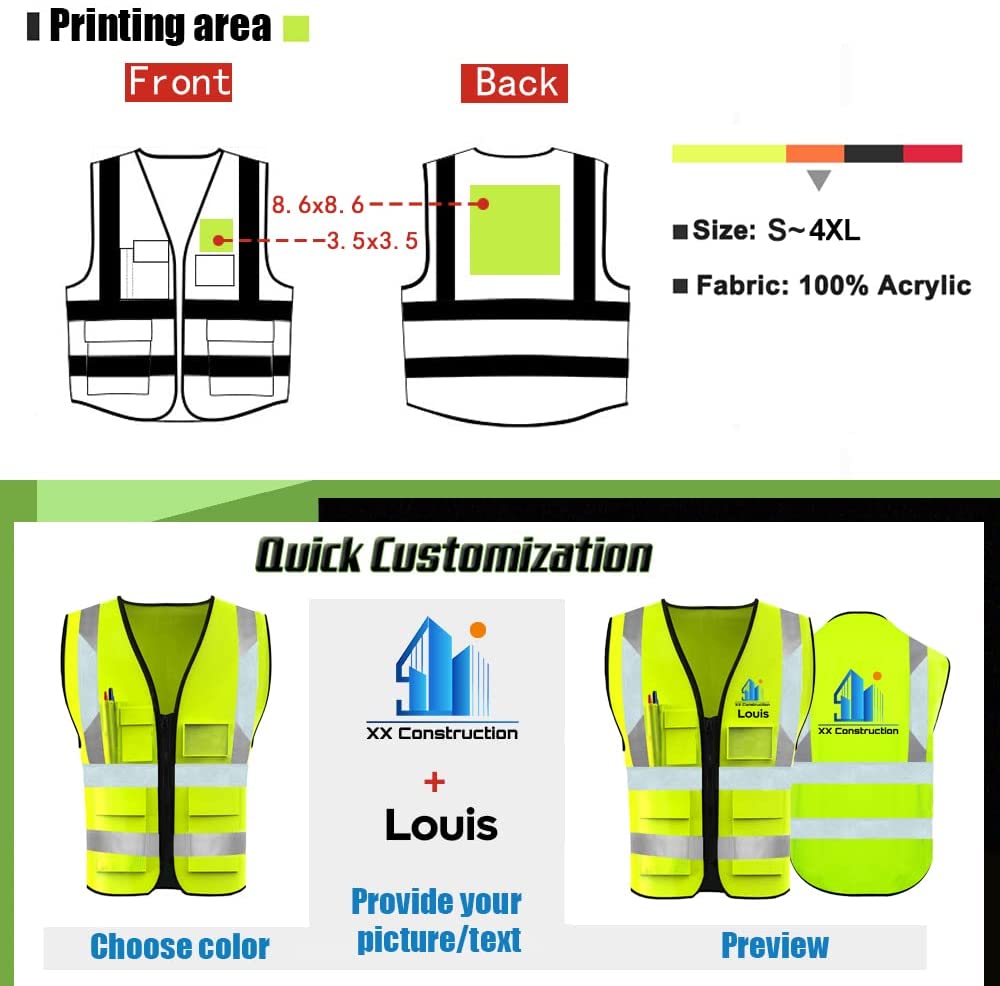 Durability is essential, especially in tough work environments, and our Hi Vis Safety Vest exceeds expectations. Made from rugged and long-lasting materials, it can withstand the rigors and challenges of your job. The vest is resistant to tears, punctures, and abrasions, maintaining its high visibility and functionality for extended periods. Invest in a vest that can keep up with your demanding work requirements.
Versatility is key, and our Safety Vest offers just that. Suitable for a range of industries and activities, including construction, roadwork, cycling, and more, this vest is a must-have for anyone who values safety and visibility. Whether you're working on a busy construction site or cycling on the road, our vest ensures that you stand out and stay safe.